Hi everyone. So I didn't keep my promise and blog throughout the weekend. Gah. Sorry. I will make up for it with a post about the weekend...as boring as it may be (:
So Friday nothing fun happened. After a couple weeks with 5 year olds painting everywhere, including on my shorts, legs, and feet...don't ask how that happened...I was pretty cashed out. It was spent relaxing at home while N fixed his brothers vehicle and I devoured my third book of the summer. It was fabulous and I highly recommend it. It was called And the Mountains Echoed by Khaled Hosseini. This is the third book of his I read and they are all AHHmazing. My next read of the summer is much longer so it should take this speed reader a bit longer. It is Inferno by Dan Brown. Love his books, especially Angels and Demons, another good read if you happen to be looking for any. It requires more thinking, definitely not a relaxing read I'll tell ya that.
Saturday started off with a farmer's market, which I love. We got some bison burgers to cook for supper tonight, and egg rolls for breakfast that morning. Super nutritious. Not. But extremely delicious. The line for these babies is usually super duper long, which is always a good sign. There is also this bar called Bazil's that has specials for their Bloody Mary Buckets during the farmer's market. Their bloodies are always delish as is, but on Saturdays they put them in BUCKETS with lots of CONDIMENTS! This brings me to my love for bloodies. N and I regularly have bloody mary bar on Sundays at home, but also like to scope out the best ones around our area. This is definitely up there as one of the best...
This is just to give you a reference of the size. Pretty big and delicious.
Speaking of bloodies. We are headed on two different road trips this summer to find the best. One is in Milwaukee, which is a couple hours from us and would also be the perfect time to attend a Milwaukee Brewers game. I'm a fair weather fan...I admit it. But when it comes to bloodies I will do whatever it takes.
This is it...can you believe it?! So outrageous! Who doesn't want a burger on their bloody!?!?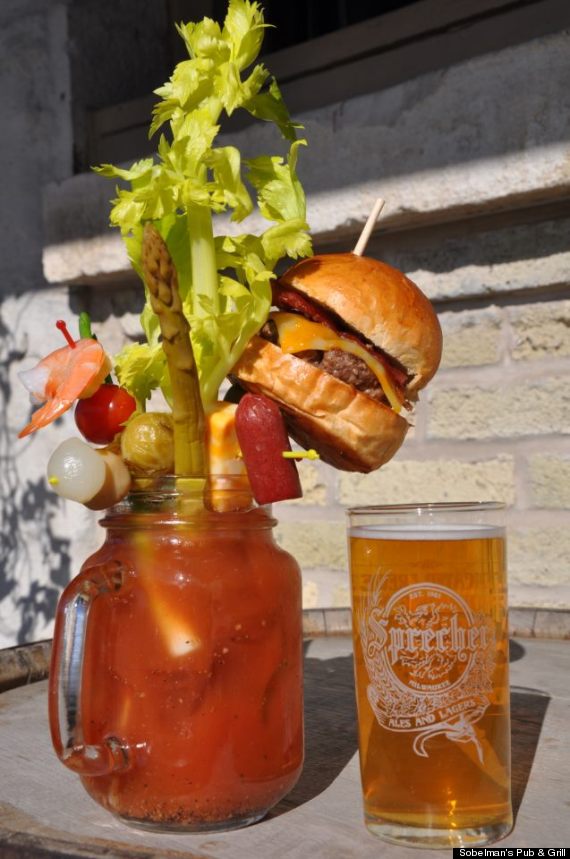 The next bloody road trip is much closer, Fond du Lac to be exact. But this one requires getting up at 6 am, waiting in line for a long time, and beating out buses full of blue hairs before they run out. But SO.TOTALLY.WORTH.IT!!!! Unreal I tell you.
I can't help but feel proud these delicious concoctions are both less than two hours from my home. Yikes!
Saturday night I was forced to go out for a friends birthday after out huge bloody mary's. Which is probably why Sunday consisted of nothing but watching movies and relaxing.
In the future when my bloody mary dreams are finally realized I will be blogging about that baby. For sure.
In other news I'm attempting to paint our closet doors at some point this week...which have remained oak while the rest of the bedroom has white trim and doors. Yikes.